Cook'N Recipe Organizing Software
(Now included Free with every Bosch Universal Plus and Bosch Styline)
The number one rated recipe software has now been made available for the Bosch Universal Plus Machines and attachments. This Bosch Kitchen Centre special version will be already loaded with lots of Bosch Universal Plus Recipes and Videos and will also be linked with our own website www.healthykitchens.com so our customers will be able to find our recipes that are on our blog or posted in our recipe section with pictures and nutritional breakdown and even shopping lists for the
recipes included. We were really impressed that when you open the software it has a live feed and will continually add any recipes that are daily added to the internet. ( my guess in 1000's daily). You can select any you wish to keep and categorize them in your own personal recipe book. You can even take pictures of current recipes you have in old recipe books or on cards or even just a sheet or paper and it will transfer them into digital form and store them in the proper category for you to bring up on your PC or Smart phone or Tablet. Have a look at all the features that this software contains.
The Only Recipe Software that lets you:
Easily Enter your Personal Recipes

Get Ideas for What to Make for Dinner

See a Visual Menu Planner

Auto-Generate Shopping Lists

Capture Recipes From Favorite Websites

Calculate Nutrition of Your Recipes

Capture & Sync Pinterest Recipes - Demo

Scan Printed Recipes - Demo

Discover New Recipes w/Live Feed - Demo

Print Themed Recipes - Demo

Use Snip-It to Capture Blog Recipes - Demo

Import recipes from Word - Demo

Share Recipes with Social Media - Demo

Use on tablets or Smart Phones with free App

and much more!
CLICK HERE TO ORDER COOK'N SOFTWARE
CREATE MENU PLANS
NUTRITIONAL BREAKDOWN FOR EACH RECIPE
CLICK HERE TO ORDER COOK'N SOFTWARE
CREATE SHOPPING LISTS
SHARE ON PINTEREST WITH FULL COLOUR PICTURES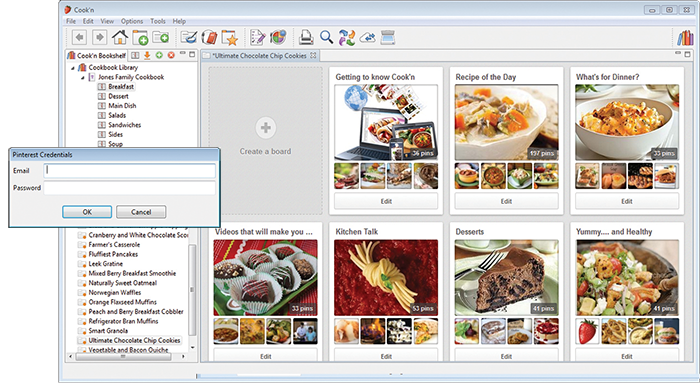 SCAN IN YOUR RECIPES ALREADY IN PAPER FORM
TAKE PICTURES AND EDIT YOUR RECIPES
LIVE FEED RECIPES FROM ALL THE MAJOR RECIPE WEBSITES
TRANSFER RECIPES FROM WORD FILES ON YOUR COMPUTER
IMPORT YOUR RECIPES FROM ALLRECIPES.COM WITH ONE CLICK
POST RECIPES ON FACEBOOK OR SHARE WITH OTHERS
CREATE THEME COOKBOOKS OR CARDS
CLICK HERE TO ORDER COOK'N SOFTWARE